Finding a company to take care of your air conditioning repair and installation services can be a difficult task. Engle Services can take care of your home cooling needs and ensure your AC Unit and system are functioning correctly.
Your AC system is essential to your home's comfort level and a significant aspect of your home's energy bills. If your AC system isn't running to the best of its abilities, it could be consuming more energy than it needs to and not providing the comfort it should.
Air Conditioning Installation
Air conditioning installation service is the process of installing a new AC unit in a home or business. This service is typically needed when an existing system is outdated, malfunctioning, or unable to meet the cooling needs of the space. Our experienced technicians are trained to install a wide range of air conditioning systems, including central air, window units, and ductless mini-splits. We start by conducting a thorough assessment of your cooling needs and the layout of your space and then provide a detailed proposal and cost estimate. Our goal is to provide prompt, professional, and efficient HVAC installation services to ensure that your new system is installed correctly and to the manufacturer's specifications.
Choosing an Air Conditioning System
Selecting an air conditioner for your home is a big decision, and it's an important investment today. It will also play a key role in your home energy expenses for years to come. When the summer heat is at its worst, you'll want your family to have the best, most reliable cooling comfort possible.
What do suitable central air conditioning units have in common? The best ones are efficient and operate on minimal electricity to hold utility bills down. They provide steady, dependable performance year after year when properly maintained. Sound systems are quiet, long-lasting, and low in service needs.
How Can I Be Sure My AC Unit is the Right Size?
An air conditioning unit that's too small won't keep your home sufficiently cool. But what many don't realize is that an oversized system will cycle (turn on and off) more than necessary, wasting expensive energy and possibly putting undue strain on the compressor.
We determine the optimum size by making a careful study of your cooling requirements: window dimensions and exposure, floor space, insulation, local climate, and even your heat-generating appliances.  The direction your home faces, even the amount of your home's exterior shaded by the tree, will influence the size of the unit required.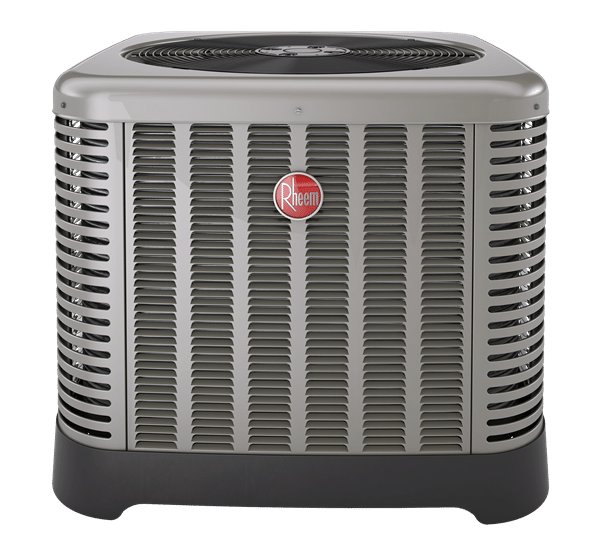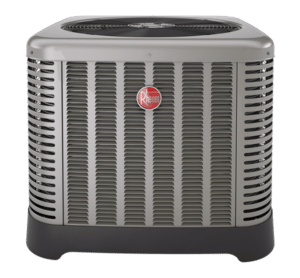 We specify the cooling capacity of the system in either Btu/h (British thermal units of heat removed per hour) or refrigeration tons (one ton being equal to 12,000 Btu/h).
Which Air Conditioners Are Energy-Efficient?
Air conditioner manufacturers evaluate and rate their equipment according to its energy efficiency, as required by law. This rating is known as a SEER or Seasonal Energy Efficiency Rating. The higher the SEER, the more efficient the equipment.
Most new homes with central air come equipped with a standard builder's model. However, when replacement becomes necessary, property owners can upgrade their air conditioning by specifying a more energy-efficient system.
Rheem High-Efficiency Models, for example, have a SEER of 14.00, among the highest available. It's significantly higher than today's standard models, many of which carry SEERs of around 10.
High SEER air conditioning models are generally more expensive, but they can easily make up the difference by reducing your home energy bills over the long run.
Are Some Built Better Than Others?
The compressor is the heart of a condensing unit. On a hot day, it works long and hard. We carry Rheem equipment, which has a highly advanced scroll compressor in every condensing unit we produce. Scroll Compressors are the leader in reliability, efficiency, and quiet operation.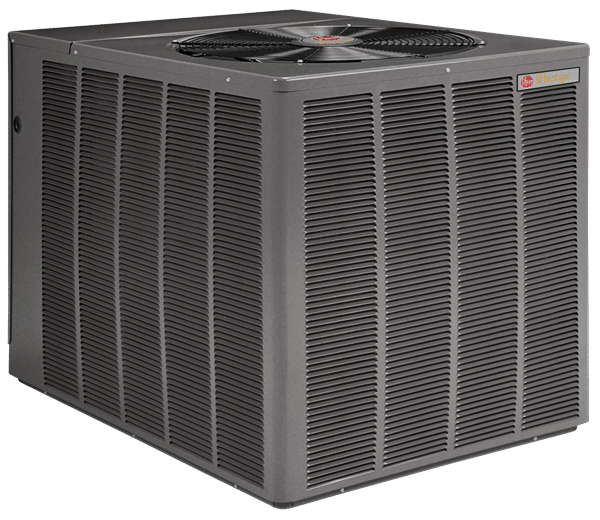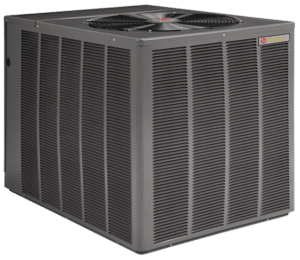 Other features to look for include louvered steel cabinets that protect the coils from damage and expensive repair bills.
Also, with some condensing units, the fan can be another source of bothersome noise. Rheem units have a grille design that minimizes air restriction for quieter fan operation.
Air Conditioning Repair
Our experienced technicians can diagnose and fix a wide range of air conditioning issues, from simple repairs to more complex problems. . This service is typically needed when a system is not functioning properly or not providing enough cool air to the space. We conduct a thorough inspection of the system to identify the issue and provide a detailed diagnosis and a recommended course of action. We strive to provide prompt, reliable, and cost-effective air conditioning repair services to ensure that your system is running efficiently and effectively.
To ensure you are getting the best air conditioning services, call Engle Services today.
Air Conditioning Maintenance
Air conditioning maintenance is the process of regularly inspecting, cleaning, and servicing an air conditioning system to ensure it is running efficiently and effectively. Regular maintenance can help prevent costly repairs, prolong the life of your AC system, and improve its performance. Our maintenance services help prolong the life of air conditioners. This service includes cleaning and tuning the AC system, checking and replacing filters, inspecting and tightening electrical connections, and more. We also provide our customers with a preventive maintenance agreement, which includes regular check-ups and maintenance tasks to keep the AC system in good condition. Regular AC maintenance is essential to ensure that your air conditioning system is running at peak efficiency and to avoid unexpected breakdowns and costly repairs.
Indoor Air Quality
Indoor air quality refers to the air quality inside a building or structure. Poor indoor air quality can cause various health problems, such as allergies, headaches, asthma, etc. It is important to maintain good indoor air quality by regularly cleaning and purifying the air, using air filters and purifiers, and controlling humidity levels. Engle Services offers indoor air quality services that include air duct cleaning, installation of air purifiers and filters, and humidity control. We also assess your indoor air quality and recommend ways to improve it. By maintaining good indoor air quality, you can ensure the health and comfort of everyone in the building.
Why Choose Engle for AC Services?
Engle Services Heating and Air is the best choice for all of your air conditioning needs. We offer a wide range of air conditioning services, including AC installation, AC repair, and AC maintenance. Our team of experienced technicians is licensed, insured, and experienced, ensuring that your air conditioning systems are in good hands. We pride ourselves on providing excellent customer service and always strive to go above and beyond to exceed our customers' expectations. We use only high-quality parts and equipment for our repairs, and our maintenance services are designed to extend the life of your system. Choose Engle Services Heating and Air for all of your HVAC needs, and enjoy the comfort and peace of mind that comes with it. As an HVAC company, we are happy to provide commercial and residential air conditioning and heating services to the great residents and businesses in Birmingham, Alabaster, Sylacauga, and Pell City, AL. We also provide plumbing and electrical services, so you can have one trusted provider handle the essential maintenance your home or business requires.  Schedule an appointment today.